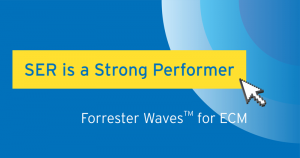 As of today, we are listed as a Strong Performer in the Forrester Wave™: ECM – Transactional Content Services* and in the Forrester Wave™: ECM – Business Content Services**. This makes us the only vendor of German origin listed in these two main international analysts' matrixes.
"The listing in both Forrester Waves™: ECM in combination with our positioning in the Gartner Magic Quadrant for ECM show that our Doxis4 iECM suite adheres to international standards," says Morad Rhlid, Managing Director at SER Solutions International. "Our customers from all industries benefit from the proven Doxis4 advantages and dedicated horizontal and vertical business solutions on a daily basis. Their satisfaction is a cornerstone of our scoring," adds Rhlid.
Two Forrester Waves™ for a more precise market portrait
According to market dynamics Forrester has adapted its views on ECM in 2015 by splitting the ECM market into ECM Transactional Content Services (TCS) and ECM Business Content Services (BCS).
Both Waves base on the same foundational repository services such as version and access controls, life-cycle management, metadata, and search. We believe, that new key components such as analytics, mobile app toolkits, flexible interface design tools, and APIs and services are becoming more important.
While BCS cover the daily user experience in the business context with key capabilities such as flexible user interfaces, document management, team collaboration, and secure file sharing, TCS focus on high-volume customer-centric processes. In the latter, comprehensive processes such as accounts payable and customer claims are key. Core capabilities consist of multichannel capture, e-forms, and business process management (BPM).
In both evaluation matrixes, the independent research firm analyzes, evaluates and scores ECM software vendors in three dimensions: Current Offering, Strategy and Market Presence.
The Forrester Wave™: ECM – Transactional Content Services*: SER offers a solid, scalable platform with future-driven developments
Forrester evaluates ECM vendors according to 28 criteria to define the 13 most significant players in the ECM TCS market. The Forrester Wave™: ECM – TCS puts these vendors in relation to each other by classifying them in the three dimensions mentioned above.
The Doxis4 iECM suite is perceived as a solid and highly scalable platform serving large installations. Its foundational library and process services were highlighted as delivering strong content, process and case management services on a unified platform, enriched with multi-channel capture and e-signature functionalities as its core. Furthermore, vertical and horizontal solution packages lead to easy adoption and high customer satisfaction. SER's customers are also extremely satisfied with the search and BPM functionalities of the Doxis4 iECM suite. Doxis4 also scored highly on integration and interoperability, scalability, library services, flexibility of the user interface, and mobile support. Application data archiving is part of the core capabilities and scored highly. Integrations with e.g. SAP are another strength emphasized by the analysts.
The Forrester Wave™: ECM – Business Content Services**: SER scores with strong document-centric support for team and project sites — solid workflow and document routing, even in large installations
Forrester has also released its Forrester Wave™: ECM – BCS. Here, Forrester analyzes the 15 most significant software vendors in the market based on 26 criteria and scores them in relation to each other. Thus, the same evaluation metrics are applied for both Forrester Waves™.
As for the Forrester Wave™: ECM TCS, SER is also positively evaluated on the before mentioned foundational content services. Moreover, SER's Doxis4 iECM suite scored highly on collaboration, files sharing, and project-based team sites. All of these specifications are incorporated into the Doxis4 iRoom, which offers collaboration and file sync and share with internal and external project members across international project sites. Customer satisfaction is cited positively specifically in terms of metadata, search and document management capabilities.
For both Forrester Waves™ Forrester marks further developing analytics, entity extraction, and automated categorization as the basis for a future-driven ECM and BPM solution that eases the way users handle content and processes in their daily work. Open-source machine learning solutions, which are adapted and enhanced to benefit the Doxis4 iECM suite, are an important element in this set-up and will gain importance in the future.
* The Forrester Wave™: Enterprise Content Management — Transactional Content Services, Q2 2017 Our Evaluation Of 13 Vendors In A Market In Transition
by Cheryl McKinnon [6104] with Alex Cullen [1761], Alex Kramer, and Sam Bartlett
April 5, 2017
** The Forrester Wave™: Enterprise Content Management — Business Content Services, Q2 2017 Our Evaluation Of 15 Vendors In A Market In Transition
by Cheryl McKinnon [6104] with Alex Cullen [1761], Madeline King, and Sam Bartlett
April 5, 2017